Send flowers to Tyumen
Send flowers to Tyumen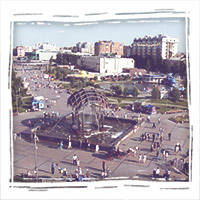 Tyumen today—a city with a population of just under a million, museums, theaters and a lot of large industrial enterprises, where people live and work. If the city is close to you, which you have to congratulate on the holiday, but you're away - Grand-Flora company will cope with this mission. Without any difficulty, you can order a delivery of flowers to Tyumen, from anywhere in the world.
It does not matter what method of purchase you will choose Internet or the phone - our experts will help you on the choice of flowers and gifts, beautiful sign a postcard, florists will make the bouquet using the best flowers and couriers brought a present and hand by hand delivery to the recipient. Order flower delivery in Tyumen from Grand-Flora and excitement with alarms will be not afraid - your greetings will be received on time.
Flower delivery Tyumen
Our online flower shop delivers flowers to Tyumen and in any locality of the Tyumen region. Make an urgent order and we will deliver a bouquet sent within 3 hours!

Inexpensive bouquets in Tyumen
Order beautiful flowers and holiday - roses, Peonies, tulips, gerbera, Lilies, orchid, chrysanthemum, Chamomile, lily. Our florists make bouquets and flower arrangements in the form of hearts for the design wedding or at birthday. Give the woman he loves Balloons or stuffed toy of gift basket.

Contacts
Address

: Tyumen, ul. Engine builders, 8

Phone

:

8 (800) 333 01 95

Vayber

:

8 (968) 278 01 91

mail

: tyumen

@grand-flora.ru
---
We work around the clock and seven days a week! You can order a delivery of flowers and gifts to Tyumen or other Russian cities at a convenient time of the day or night. We cooperate with local flower shop that quickly deliver a bouquet courier directly to the recipient's hands.
---
Place an order online online or call8-800-333-01-95.
Answers to frequently asked questions
In any other city, you can order flowers delivery?
Our service works anywhere in Russia and around the world.
Can I get a bunch to the exact time?
Can. You can write the desired time in the additional information when ordering.
You can send flowers anonymously?
Before delivery florists will make a free photo bouquet and send it to you, thus we guarantee the freshness of flower arrangement.
The company"Grand Flora"It is working in the flower market since 2008. Read customer reviews about the quality of our services to you it was easier to trust us on our website or online (e.g., authoritative resource"Otzovik")
How soon will I get the flowers?
Delivery time - 1-3 hours. They may shift over time depending on traffic, search for an address, and other factors.
What is the cost of delivery in Tyumen?
Free delivery to any point of the city.
How to clarify that with my order?
You can call the number 8 (800) 333-01-95 call your order number and we will answer all questions. Once the Courier will report on delivery, you will receive a notification to your specified contacts.
Delivery to any city in Russia
Start typing the name of the city, and we'll show you
International Flower Delivery
We did not find the required location                     
Call us at
8 (800) 333-01-95
 and we will help you.
Our best stocks